HALCOM VIETNAM
Rising with a new era
Actual photo of Phuong Mai 3 Wind Power Plant
ABOUT US
Halcom Vietnam, a Vietnamese enterprise founded in 2001, has gradually affirmed the position and role in the field of Investment and Consultancy in Urban and Infrastructure Development. Halcom focuses its investment on renewable energy, water supply, sewerage & solid waste management and transport, and has conducted over 200 consulting services, most of all are ODA projects financed by international organizations such as the World Bank (WB), Asian Development Bank (ADB), Japanese International Cooperation Agency (JICA), Ministry of Foreign Affairs of Finland, in around 50 cities and provinces nationwide.
With the unique business philosophy "Profits should not be pursued by all means", Halcom Vietnam aims to be a leading group of sustainable development in urban and infrastructure sectors in Southeast Asia, committing sustainable benefits to the community and society with transparency and innovation.
NEWS
Halcom Vietnam joins hands with VOV1 and some enterprises in building up a new kindergarten school for poor ethnic children in Na Ma village, Phuc Loc commune, Ba Be district, Bac Kan province. The construction of the new school, starting on Aug 11 and completing by Oct, 2020, will facilitate better infrastructure – a classroom and supporting areas – for the local teachers and children in studying. The total construction amount is over 700 million dongs.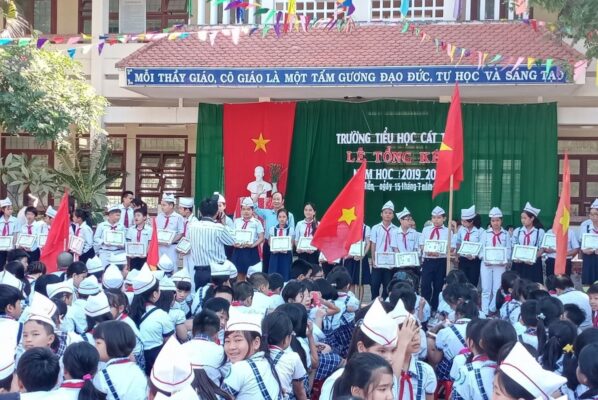 On July 15th, 2020, representatives of Central Wind Power Jsc. (CWP), a member company of Halcom Vietnam Jsc., granted gifts to 20 poor pupils at the 2019-2020 school year-end ceremony of Cat Tien elementary school (Cat Tien commune, Phu Cat district, Binh Dinh province).
On 8 July, 2020, Mr.Nguyen Van Tuan, Vice Chairman of the provincial People's Committee, had a survey visit to the construction site of Hau Giang solar power plant (Hoa An commune, Phung Hiep district), together with officers from related departments.
PARTNERS