30/10/2020
Posted by:

PR & Marketing

Category:

News release
On October 28, 2020 in Hanoi, under the direction of VCCI and the Vietnam Fatherland Front Central Committee (VFFCC), the Business Forum Magazine cooperated with Advisory Council of Science, Education and Environment (VNFF) to hold the Forum Resolution 55/-NQ/TW and solutions for Vietnam renewable energy development. In the Forum, Mr. Nguyen Quang Huan, Member of the Council, Vice President of Vietnam Private Business Association, Chairman of Halcom Vietnam Jsc., gave a speech on the development trend of renewable energy and the current situation in Vietnam.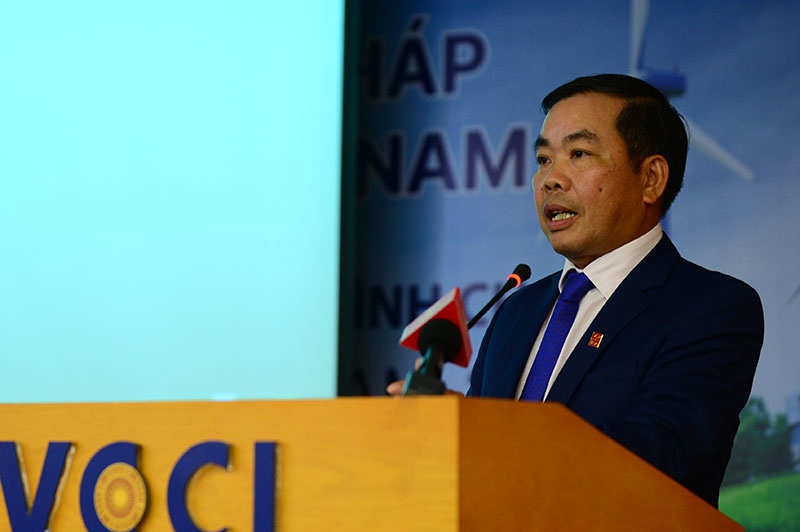 Mr. Huan stated that Vietnam is currently experiencing the lack of energy."The average electricity consumption of Vietnam is only 2.322 kWh / person, which equals to 67% of the world, 44% of Malaysia and 45% of China, 86% of Thailand and very low compared to other countries in Japan and Korea. … If GDP increases by 7% / year, the demand for electricity output will increase by 10-11% / year", stressed Mr. Huan.
In fact, according to the data from EVN – MoIT, Mr. Huan said that in the course of 2016-2020, traditional power sources such as thermal or coal power, etc. only reached 60% of the approval plan. Total capacity in 2019 reached nearly 56.000 MW; by 2023, the capacity of the thermal power source may be in shortage of over 12,000 MW. By 2025, there will be power offset but still a shortage of about 7,000 MW.
While natural power source and power from fossil fuel are exhausting, Mr. Huan suggest it be time for Vietnam to develop various of renewable energy sources to meet demand.
Decision 2068 / QD-Ttg dated November 25, 2015 approved Vietnam strategy of renewable energy development to 2030, with the outlook to 2050 stated that: prioritizing the rapid development of renewable energy sectors with large resources and good commercial prospects, including wind power, solar power and biomass power with the target of 7% by 2020 and 10% by 2030.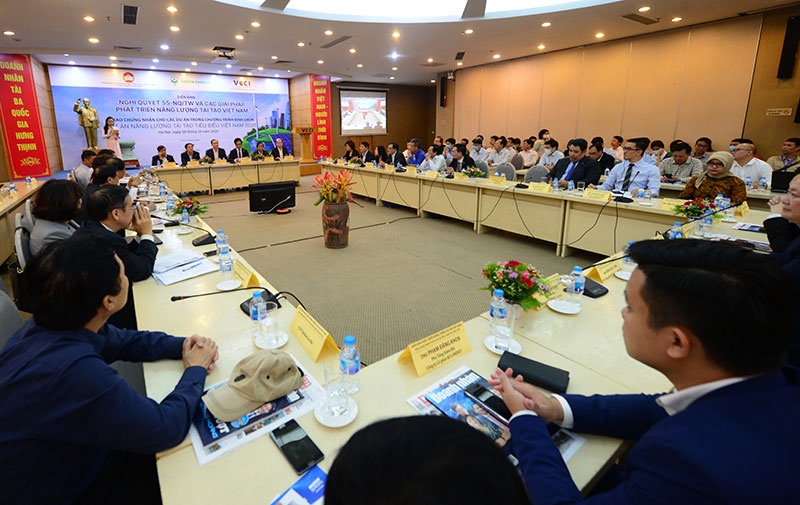 "Vietnam is located in the subtropical monsoon area with a long coastline, great potential for wind and solar power, so if we are able to take advantage of these natural incentives, Vietnam will absolutely develop renewable energy resources well", acknowledged Mr. Huan.
About the current situation of Vietnam renewable energy development up to 2020, Mr. Huan said that the state monopoly mechanism in building transmission grid, investment procedures that comply with state regulations as well as huge financial resource requirement is the reason why the transmission network system cannot keep up with the development of power sources.
"According to Article 4 in Law on Power 2004, The State holds monopoly in activities of transmission and regulation of the national power system. Resolution 55 by The Politburo clearly states that it is necessary to develop mechanisms and policies to implement socialization; and according to the PPP investment law, which is effective from 1 January 2021, the sectors to be socialized are power projects, power grid excluding hydropower and those areas that are exclusively regulated in the Law on Power.
So Article 4 of Law on Power should be adjusted in order to socialize investment on power transmission system", said Mr. Huan.
However, in his opinion, the investor preference policy is not stable and not long-term enough to attract the investors
"PPA does not protect the investors. The power producers should be able to sell power directly to end-users."
Moreover, Mr. Huan also emphasized that there has not been enough attention to solid waste to power potential.
"Resolution 55 stated about that, The Government also called for but the implementation in the locality is still very weak with many shortcomings in investment selection. Along with that, there is no consistent guideline or policy on investment selection with different technologies depending on the capacity and ability of each locality. Lack of technology understanding at the local levels risks the selection of investors or technology," said Mr. Huan.
From his perspective, the current amount of waste is about 46,000 tons / day (source: GIZ). Without incineration for power generation, we are wasting 46.000 * 0.7 = 32.600 MW / day, which is nearly 1,400MW / h, equivalent to 20% of the total current power capacity of wind and solar power; not to mention the negative effects on the social environment caused by improper treatment of waste.
Regarding the development of offshore wind power, Mr. Huan said that the development of offshore wind power being applied as near-shore wind is not appropriate.
Regarding the standards, Mr. Huan mentioned about the lack of national standards and regulations for renewable energy projects, which leads to the dependency on the equipment manufacturer's country standards.
"Meanwhile, the operation in the first stage of commercial exploitation depends on the service provider", spoke Mr. Huan.
Regarding the trend of future renewable energy development, he thinks there should be encouragement of mechanism and policies in the form of PPP investment and private sector economic investment.
Regarding the offshore wind power development, Mr. Huan thinks there should be more profound study on the potential of offshore wind power, land and sea planning, connection before policy options and investors selection, as well as combined development with other economic sectors.
Regarding the solid waste to power, he said that Vietnam should boldly take the lead in applying advanced technology so that our country will lead the region in the development of solid waste to power development, proceeding to manufacturing and exporting these equipments to countries in the region and around the world.
"Along with that, there should be issuance of a framework of standards and regulations applicable to renewable energy projects. This will be an important legal corridor in the development of renewable energy in the future", emphasized Mr. Huan.
Article source (in Vietnamese): Enternews