26/12/2019
Posted by:

PR & Marketing

Category:

News release
On December 24, 2019, the first wind turbine in Binh Dinh province was installed completely and successfully at Phuong Mai 3 Wind Farm. Phuong Mai 3 project is invested by Central Wind Power JSC. (CWP), a member of Halcom Vietnam JSC.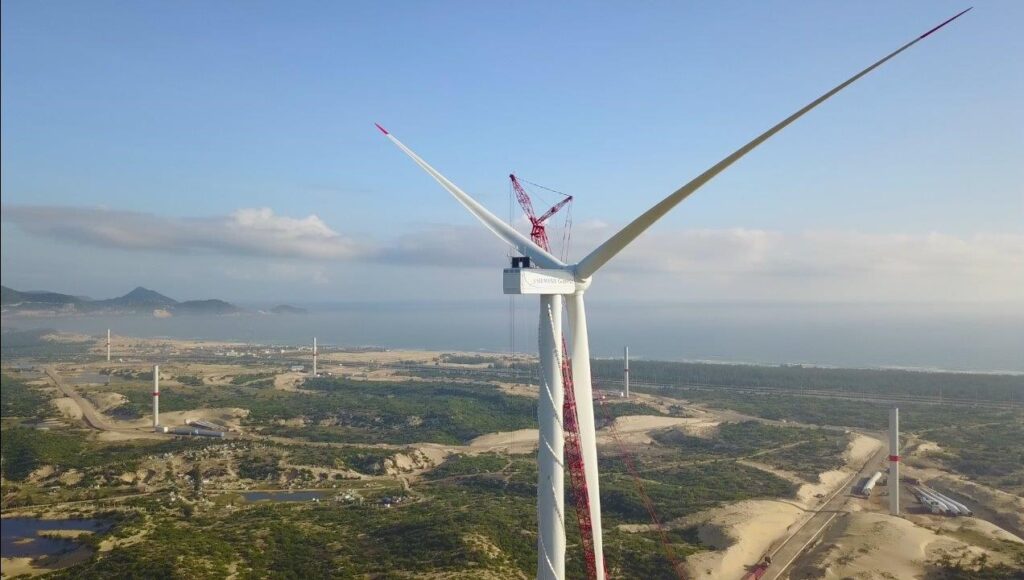 Click here to watch the video of the first completed turbine.
Phuong Mai 3 Wind Power Plant at Nhon Hoi Economic Zone, Quy Nhon, Binh Dinh includes 6 turbines (capacity of 3.5MW per turbine) with the height of 114 meters, 132-meter rotor diameter in the total area of 122 ha. Siemens Gamesa (Europe) is the contractor providing wind turbines, operation and maintenance services for the project.
Since early Quarter 4, 2019, in preparation for the turbine installation, the foundation, paths and ground were completely constructed, meeting all technical requirements. The installation of 17-30 meter long & 49-89 ton weight towers, 65 meter long blades with total weight of 550 tons require high concentration, specialized equipment, together with a professional & skillful staff of experts and workers. Up to now, the tower installation of 6 turbines has been completed, and the rotor blades installation is on going. It takes at least 5 to 6 days to complete the blade installation of each turbine in good weather condition, therefore, the project is on construction throughout the coming Tet holidays.
In the morning of December 23, 2019, Mr. Nguyen Thanh Tung – Provincial Party Committee Secretary, Chairman of Binh Dinh People's Council and Mr. Nguyen Phi Long – Vice Chairman of Binh Dinh People's Committee, Head of Nhon Hoi Economics Zone visited Phuong Mai 3 construction site. Mr. Nguyen Thanh Tung highly appreciated the aggressive working attitude of CWP, supervising and consulting parties, contractors in the construction of Phuong Mai 3 wind power plant. Mr. Tung emphasized that renewable energy projects improve the electrical supply for economic – social development and environment protection, strongly suggest that the project needs continuous support from the Management Board of Nhon Hoi Economics Zone be completed as planned. Besides, all parties need to accelerate the construction progress towards the national electrical grid integration.  All bid packages also need checking and supervision to ensure project quality.
"The blade installation on the first turbine tower is very important, this is a remarkable milestone showing that the project is on progress as plan and successfully constructed." – a representative from Fitchner (Germany), the project supervising and consulting partner, said.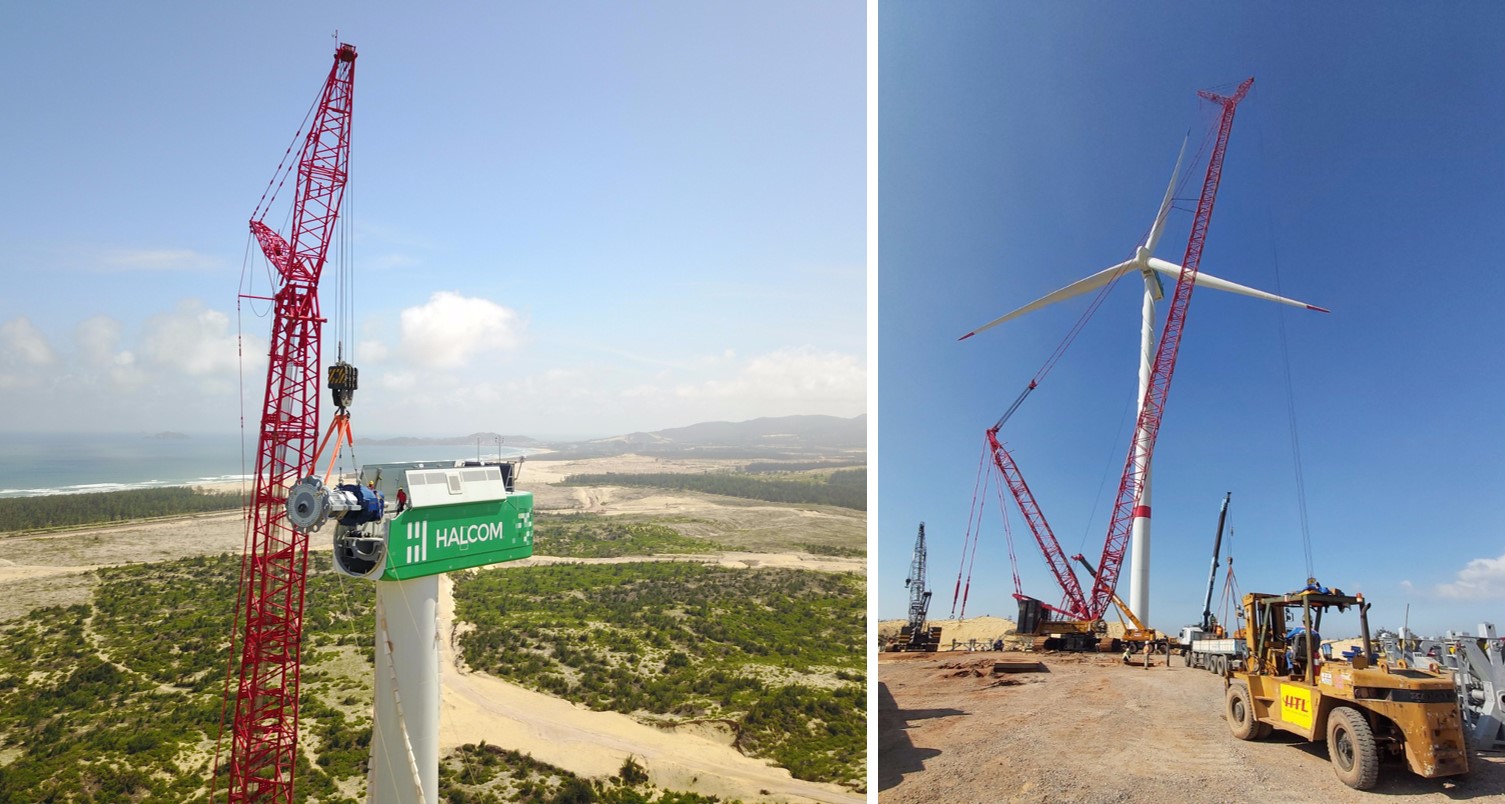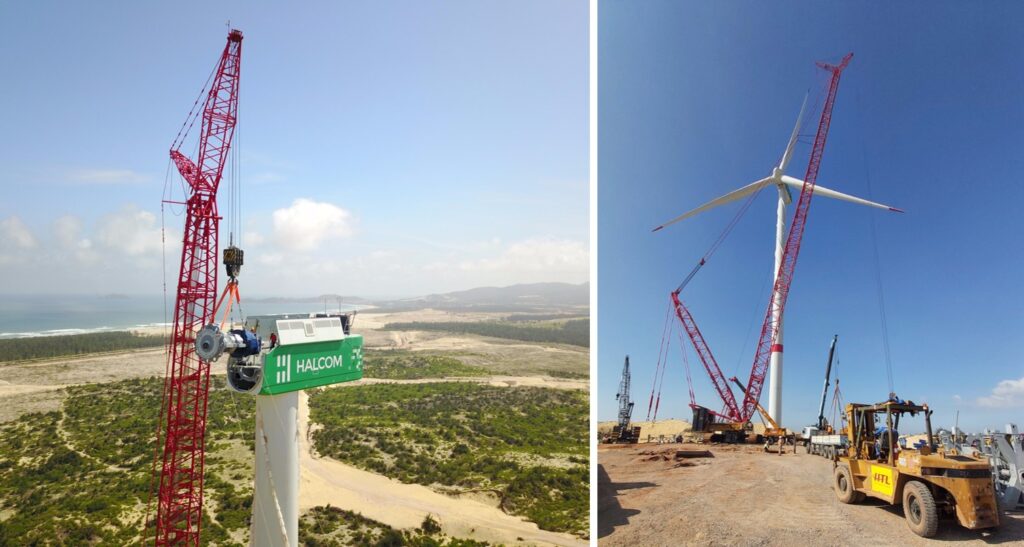 Phuong Mai 3 wind power plant has the total capacity of 21 MW and total investment of 40 million USD. The plant will supply over 70 millions kwh to the national electrical grid per year, reduce the emission of 50,000 tons of CO2 per year with the estimated annual revenue of 200 billion dongs. This will be the first wind farm operation in Binh Dinh province and among one of the largest capacity wind power projects nationwide.  As planned, the plant will integrate into the national electrical grid in January, 2020.
Renewable energy is currently the interest of many local and international investors. Phuong Mai 3 is the first project of Halcom Vietnam in this field with professional investment, consulted and constructed by international leading contractors. AIF Group (Laos) and Shizen Energy Group (Japan) are the two strategic partners of the project This is also proudly the second project in Vietnam that is financed by export credit (financed by Landesbank Baden-Württemberg – the 4th biggest bank in Germany), enhancing the project financial effectiveness and international co-operation.
Related news & reportage:
News on December 23, 2019 on Binh Dinh TV
News on December 25, 2019 on Binh Dinh TV