23/04/2021
Posted by:

PR & Marketing

Category:

News release
On April 22, 2021 in Hanoi, Enternews magazine and the Vietnam Association of Water and Environment (AWATEN) held an online broadcast forum with the topic: "Privatization of investment in water sector: Opportunities and challenges". The forum focused on the following issues: the current situation of the water and sanitation sector in Vietnam; the benefit assessment of current clean water technology project; solutions on mechanisms and policies, investment, public private partnership (PPP), interdisciplinary and planning; the demand of monopoly removal and calling for social investment from actual demands and international experience.
At the forum, there were Mr. Hoang Quang Phong – Vice Chairman of Vietnam Chamber of Commerce and Industry (VCCI), Mr. Pham Ngoc Tuan – Editor-in-Chief of Enternews, Mr. Nguyen Minh Khuyen – Deputy Director of Department Water Resources Manager (Ministry of Natural Resources and Environment – MONRE), Mr. Nguyen Ngoc Diep – Chairman of Vietnam Water Supply and Sewerage Association (VWSA), Mr. Pham Anh Tuan – Head of Project Management Department of Water and Sanitation Center (MARD) and scientists, experts and busisnesses in the field of clean water and environment, together with the media.
From the AWATEN, there were Former Deputy Minister of MONRE Nguyen Linh Ngoc – Chairman of the Association, Mr. Nguyen Quang Huan – Vice Chairman of the Association, Mr. Nguyen Van Toan – Vice Chairman of the Association, Editor-in-chief of Journal of Environment and Life, Mr. Hoang Cuong Quoc – Chairman of Thai Nguyen Clean Water and Environment Association.
Speaking at the opening of the Forum, Mr. Hoang Quang Phong, Vice President of VCCI said that in recent years, Vietnam's socio-economic development has made great progress. Along with that, the demand for clean water also increases, especially in urban areas. Meanwhile, water is an extremely valuable resource and of course, not inexhaustible. In the past, the privatization of investment in the water sector has not managed to attract businesses to invest in this industry. The issue of equitization of state-owned enterprises in the water sector is not much, there are enterprises that have been equitized but the state still holds 80-90% of the ownership, so they cannot attract resources from the society.
Mr. Nguyen Quang Huan – Member of the Central Committee of Vietnam Fatherland Front, Vice Chairman of AWATEN, Chairman of Halcom Vietnam JSC. said: "To guarantee a healthy and developed investment environment, first of all, the State needs to disclose information transparently on the status of water supply and sewerage in each region. There should be an open database system for all investors and citizens to access to. Furthermore, it is necessary to develop policies to encourage long-term investment in the wastewater sector. At the same time, there should be an open, fair and transparent investor selection mechanism to find the right investors with both financial, technical and managerial capacities to invest, therefore avoiding the situation of the nonsense project buying and selling, which is a waste to the society".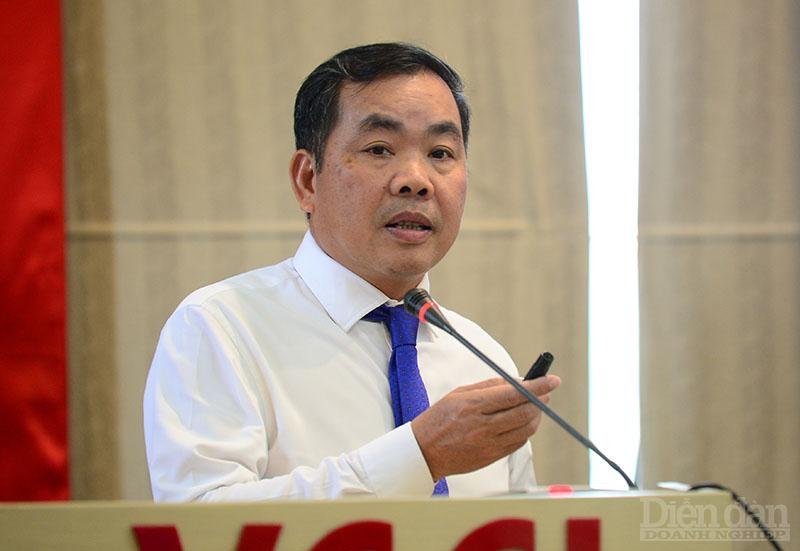 Chairman of VWSA, Mr. Nguyen Ngoc Diep said: "Currently in Vietnam, about 60% of the population does not have access to clean water and tap water. Even in urban areas, only about 86% of the population has access to clean water. Therefore, more and more private businesses are investing heavily in clean water production. They also started to equitize to improve the service quality and protect people's health. However, in the production process, businesses still face many difficulties in mechanisms, policies, technology, and capital sources".
Mr. Nguyen Quang Huan proposed that: "The State needs to continue the policy implementation of equitization of water supply and sewerage companies without trying to dominate the shares. In particular, the State should have an independent and regular control mechanism to let all water supply and sewerage companies operate equally in compliance with the law, and fulfill commitments to the people and society as well as uphold ethical spirit in business so that the system develops sustainably and the people are safe in water use".
Regarding the current challenges, , said that the MONRE has assigned the Department of Water Resources Management (DWRM) to study and amend the Law on water resources, which is expected to be submitted to the Government during this term, then the Government will submit to the National Assembly. Accordingly, the content of privatization in water supply in particular and the contents of basic survey on water resources to have transparent data for management as well as for research needs of clean water production to be the most complete.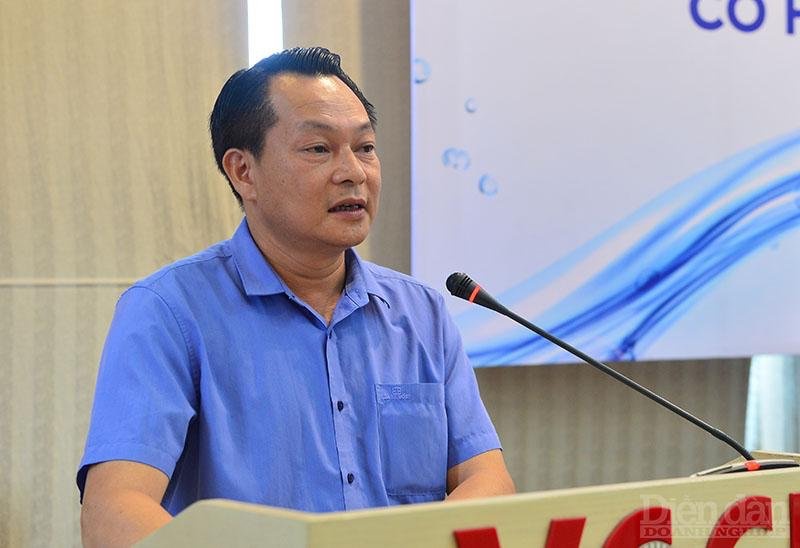 Talking about technology for waste treatment in Vietnam, Mr. Olli Keski Saari – COO of Halcom Vietnam JSC, mentioned on the two required factors in order to attract private investment to this sector, which are strong legal framework and solid mechanism of cost recovery. Private investors need certain mechanism to earn the investment back. The cost of wastewater treatment depends very much on the type of technology. It is not necessarily the best technology available in the market as it is only useful when affordable to the customers. To make the best choice, we need to understand urgent and future purification needs and available resources, then choose the technology and plan the steps.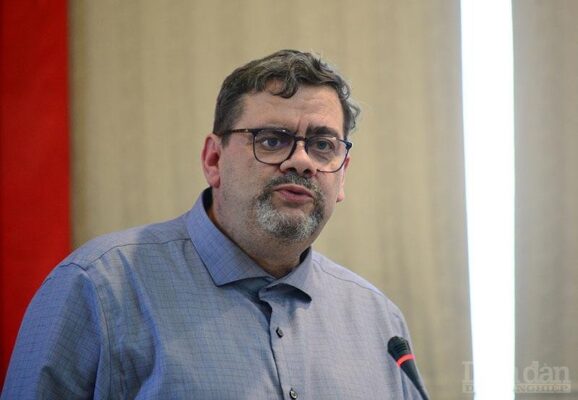 Former Deputy Minister of MONRE Nguyen Linh Ngoc – Chairman of the AWATEN said: If the State solves problems in policy mechanisms, businesses will privatize fast and efficient. As a result, the quality of clean water supply service will increase, socio-economy will develop. Actually, the circulars and guiding decrees already exist, but how businesses can access, understand and implement those policies is a hot issue, because each province applies those in different ways.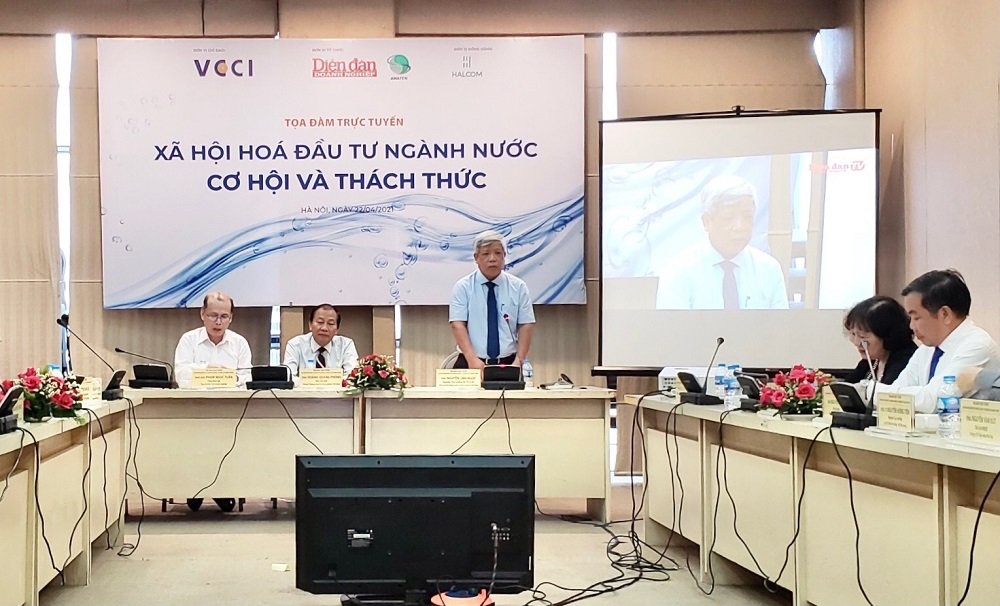 In addition, Mr. Nguyen Linh Ngoc also summarized some outstanding issues at the forum: First, in order to have a successful privatization process, private businesses must also step in. Private businesses don't lack money. They only need a clear mechanism. When the difficult mechanism is removed, businesses will participate to make the society thrive. Documents, decrees, and circulars already existed, but how to operate the policy is an issue. Second, we should send out a clear message, which states that the water is forecasted to be rare in the future. Vietnam depends on the surface water but some places are already polluted. Therefore, it's critical to use water efficiently. Third, technology. There are businesses in Ho Chi Minh City that have modern technologies, which help filter seawater into domestic water. Thus, we can see that we're totally able to completely master the technology. There should be a mechanism to support this. "The Vietnam Association for Water and Environment and VCCI will record all comments to a document and send to the Governments, Ministries and Departments in the coming time." Mr. Ngoc stressed.