13/11/2019
Posted by:

PR & Marketing

Category:

News release
On Vietnamese Business Culture Day – November 10th, 2019, Mr. Nguyen Quang Huan, President of Halcom Vietnam, Vice President of Vietnam Private Business Association, joined the interview of Economics Forum on corporate culture. The program was live broadcast on the News channel, Voice of Vietnam (VOV1). Ms. Thu Hue, Lecturer of Media management & Corporate culture subject at FPT School of Business (FSB) and Mr. Mac Quoc Anh, Vice President – General Secretary of Hanoi Small and Medium Enterprises Association were also the interview guests.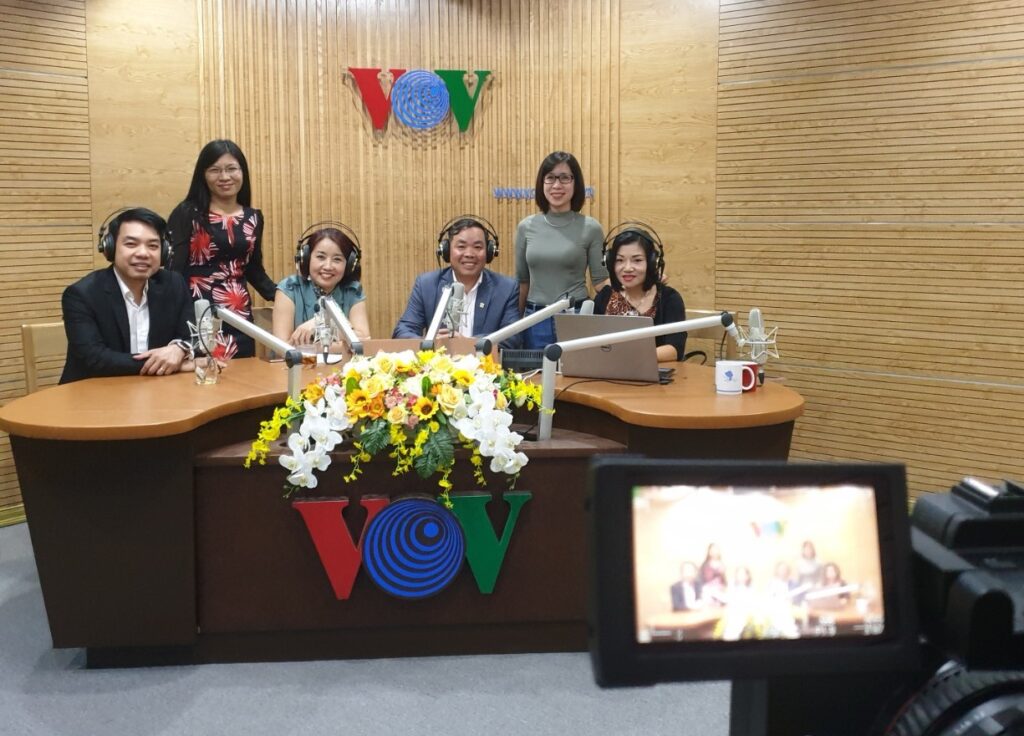 CLICK HERE FOR THE RECORD OF THE LIVE INTERVIEW ON VOV1.
The importance of corporate culture
Mr. Nguyen Quang Huan emphasizes on the importance of corporate culture in organizations, "It is critical for each organization to build up and promote a corporate culture based on its own business philosophy, core values, vision and mission. This is considered a foundation for all members to go on track towards common targets. And, a Code of conduct is necessarily established to regulate all activities and behaviors both internally and externally to the community, customers or partners." In the integration context nowadays, Mr. Huan highly appreciates the Vietnamese and Asian cultural identity in the business culture of the local enterprises, and hope that the government of Vietnam will encourage organizations to respect the commitment and discipline spirits, build their standards according to international ones.
"Local enterprises should respect our Vietnamese and Asian cultural identity. This is evaluated as a local market knowledge competitiveness, an added value in international cooperation, a remarkable impact on business effectiveness and labor productivity. The stronger and deeper your corporate culture is, the more sustainable your business become and the more partners you get." – Mr. Nguyen Quang Huan shared
Corporate culture at Halcom Vietnam
With the consultancy by experts from the World Bank – main sponsor in our ODA funded consulting projects and other professional experts, Halcom Vietnam has built up and promoted successfully a culture with respect, innovation, transparency and for benefits of all related partners. A corporate culture, even though starts from the founders' spirit, needs efforts from all employees and closely observation by leaders.  With a unique business philosophy "Profits should not be pursued by all means", throughout over 18 years, Mr. Nguyen Quang Huan has been leading Halcom Vietnam to become a pioneer in the fields of investment (renew energy, water, transportation) and urban & infrastructure development consulting (ODA projects funded by WB, ADB…), including 5 member companies and 1 branch, working across 50 cities and provinces nationwide.
Halcom emphasizes the social responsibility in our business, including charity activities. Typically, Halcom has committed to be a companion in the long-term program "Together joining hands for the poor – No one is left behind" 2019 initiated and organized by Vietnam Central Committee of the Fatherland Front, targeting to a sustainable life and education improvement for unprivileged community in the country.