17/03/2021
Posted by:

PR & Marketing

Category:

News release
On March 12, 2021, the Hau Giang Solar Power Plant invested by Halcom Vietnam JSC. and its partner, Shizen Energy Group (Japan) was officially inaugurated in Hoa An commune, Phung Hiep district, Hau Giang province. The plant has a capacity of 35 MWp and produce about 50,800 MWh per annum. This is the first solar power operation in Hau Giang, contributing to the efficient exploitation of the provincial solar radiation potential and in line with the development strategy of renewable energy in Vietnam, following the Politburo's Resolution 55-NQ/TW, as well as general planning for solar power in the province.
The construction of Hau Giang Solar Power Plant Project was commenced in June 2020 and completed after six months. The plant officially achieved Commercial Operation Date (COD) on December 26, 2020. The project covers an area of 33 hectares, including 79,000 solar panels, control room, transformer station and the 110 kV line connecting Vi Thanh – Long My with the length of 6.83 km passing through the area of Hoa An, Long Binh communes and Vinh Tuong ward in Phung Hiep district and Long My town. Total investment fund is 700 billion dongs. The annual revenue of the plant is about 80 billion dongs.
 The project was completed as per committed schedule, which demonstrates the determination of Halcom Vietnam JSC. as the Investor, the efforts and coordination of all parties, including VKT- Hoa An Solar Power JSC. as the project enterprise; GE (General Electric – USA) and IPC Group (Vietnam) Contractors, and Shizen Energy Corporation (Japan) as the investment partner.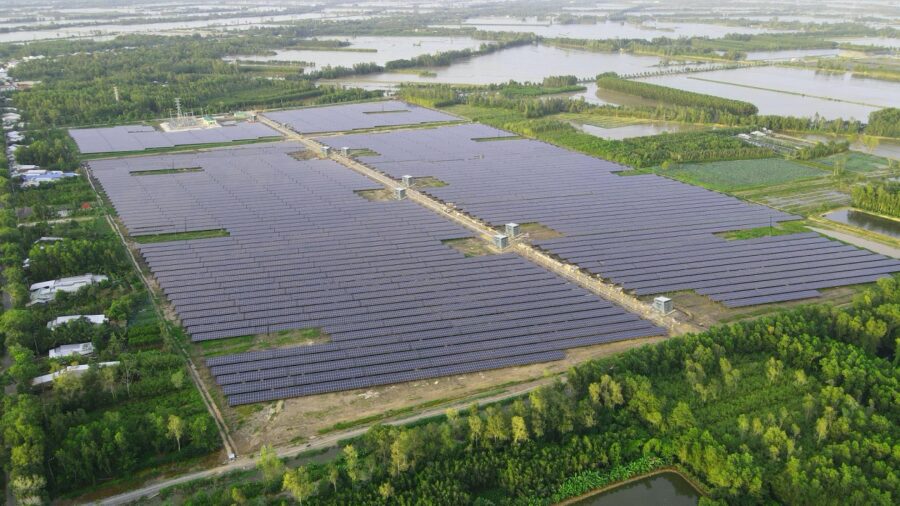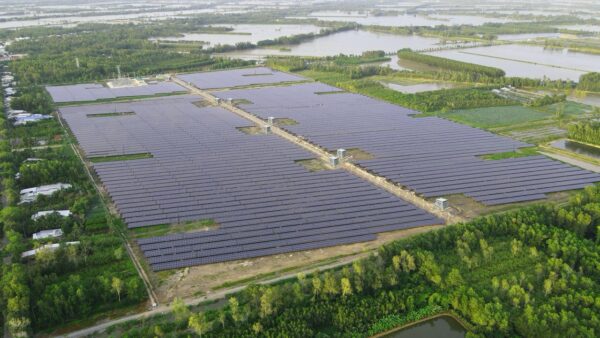 Hau Giang Solar Power Plant officially achieved COD on December 26, 2020.
Mr. Nguyen Quang Huan, Chairman of Halcom Vietnam JSC said, "The success of Hau Giang Solar Power Plant was achieved thanks to the direction of the Provincial Party Committee, the Provincial People's Committee, local departments as well as authorities at all levels and especially the support of civilians in the 3 communes and ward of the project. This is just the start of a long term and sustainable investment by Halcom in the province. Recently, we've got the approval from Hau Giang People's Committee to expand the Hau Giang Solar Power Plant Phase II with the capacity of 40MWp in order to maximize the effectiveness of available infrastructure. In addition, as per our sustainable development strategy, we would like to invest in more sectors such as  infrastructure, urban, water supply and drainage, and other sectors in the circulating economy. Thus, we can contribute more to the overall development of the province, making Hau Giang a destination for investors and gradually become a model province of sustainable development in this beautiful Hau river area."
About Halcom Viet Nam
 Established since 2001, Halcom Vietnam JSC. has gradually asserted its position and role in the field of investment and consulting on urban infrastructure development. Halcom has focused on investments in renewable energy, water supply, drainage, waste to energy and transportation. With its strong experience in the consulting fielf, Halcom has participated in more than 200 ODA project consultancy service contracts funded by international organizations such as the World Bank (WB), Asian Development Bank (ADB). In the field of investment, in addition to the Hau Giang solar power project, Halcom also put Phuong Mai 3 Wind power plant (Nhon Hoi economic zone, Binh Dinh province) into operation in 2020.
With the business philosophy "Profit should not be pursued by all means", Halcom Vietnam heads to become the leading corporation in sustainable development in infrastructure and urban areas not only in Vietnam but also in the Southeast Asia region. Halcom commits making our best efforts to bring sustainable benefits to the community and society through transparency and innovation.
Website: www.halcom.vn
Contact:
Dinh Thi Hai Van
Deputy Manager of PR-Marketing Division
Halcom Vietnam JSC.
Mobile: 0989 058 895
Email: d.t.h.van@halcom.vn