28/04/2020
Posted by:

PR & Marketing

Category:

News release
As the COVID-19 pandemic widens overseas, many Asian countries now going through a second wave of outbreak and massive lockdowns continue to be in effect across South East Asia (SEA). Amid the dark clouds, GWEC Asia has not slowed down policy efforts and have taken massive steps forwards in one of the priority markets: Vietnam.
Vietnam's thriving wind energy market is living up to its potential, with clear policy support and targets that aim to include 800 MW of wind energy capacity in the country's energy system by 2020, 2,000 MW by 2025 and at 6,000 MW by 2030. However, the current Feed-in-Tariff (FiT) is set to expire in November 2021, which means that April 2020 would be the cut-off date for financial closure in order to meet COD by the deadline.
Given the global supply chain disruptions and investors uncertainty due to COVID-19, it has narrowed the window within which developers could finish construction before the tight deadline. Uncertainty over what will happen post-November 2021 is drying up new business opportunities and leaving project developers and investors without a way forward to get their projects off the ground. What is certain as of now is that the more visibility the government provides, the more investment appetite there will be.
Market to watch: Vietnam
With a coastline of more than 3,000 km and an average wind speeds of 8m/s-9m/s in the south, Vietnam´s potential to develop and generate wind power is substantial. In two reports both by the World Bank Group, Wind Resource Atlas and Going Global: Expanding Offshore Wind to Emerging Markets, a whopping 24 GW of onshore and 475 GW of offshore wind technical capacity was identified across Vietnam. By the end of 2019, Vietnam has a total cumulative installed wind power capacity of 487.4 MW, which includes 99 MW of intertidal projects, the first of its kind in the ASEAN region. Due to the strong flows of foreign and domestic investors into Vietnam's wind sector, the market is predicted to install approximately 4 GW of wind capacity by 2025.
Near-term wind energy boom is being boosted by the 2021 Feed-in Tariff deadline
The current burgeoning wind market has been driven by a Feed-in Tariff (FiT) of USc 8.5/ KWh for onshore, which was increased by 9 per cent in September 2018, and the introduction of the offshore tariff of USc 9.5/KWh, at a time when neighbouring markets have lowered or removed FiTs for wind energy. The government's decision to increase the wind FiT in 2018 (but with expiry in 2021) was part of its efforts to rapidly add more power capacity. The market is now driven by the FiT cut-off date of 1 November 2021 and the market is seeing a plethora of wind developers and investors rushing to commission their projects before the deadline to capitalise on the increased FiT rates. In addition, there are also other support mechanisms in the form of tax exemptions, such as import, corporate and land tax exemption, as well as an exemption from Environment Protection Fees.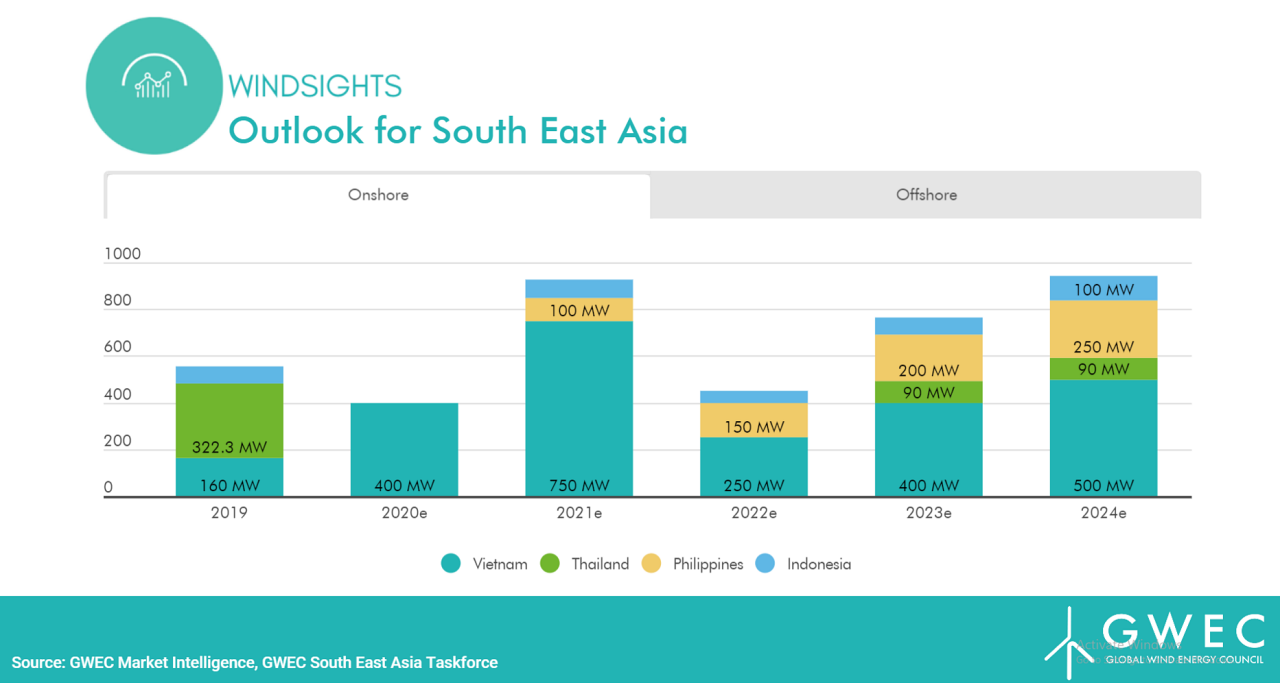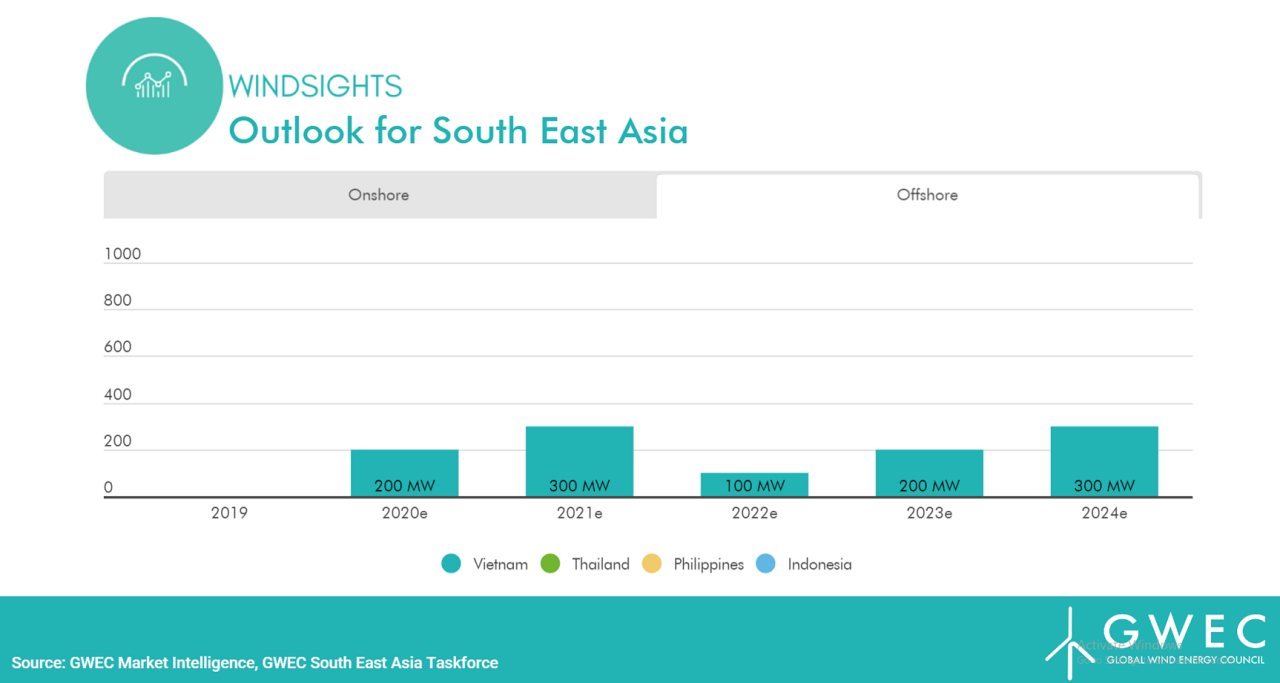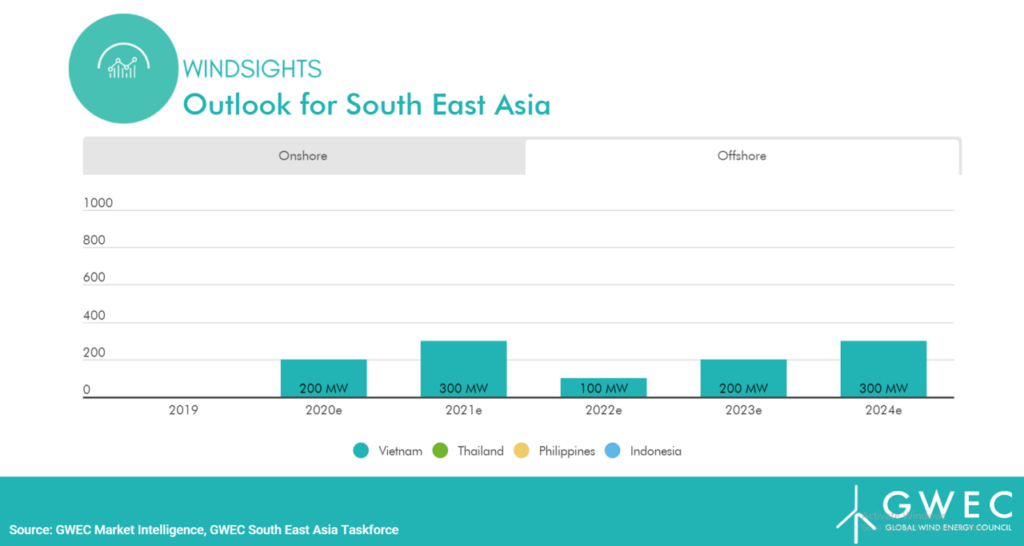 Key Challenges and Recommendations  
Despite the bullish mood, the wind industry is still facing competition from subsidised coal. The biggest obstacle for wind is the high cost of capital and lack of financing for projects, with persisting risk factors in relation to the PPA continuing to deter international developers and lenders. While the cost of wind power in Vietnam is already competitive with thermal power, post-2021 growth could be limited by the FiT expiry and curtailment challenges unless Vietnam takes a proactive approach to ensuring continued momentum and those transmission investments are handled strategically.
News & data source: Liming Qiao, Asia Director, GWEC and Shuxin Lim, Policy and Communications Manager, GWEC Asia
Find out more on Global Wind Report 2019!