15/07/2021
Posted by:

PR & Marketing

Category:

News release
During 20 years of operation, Halcom Vietnam has consulted several large projects on urban renovation, upgrading and development, which includes water supply and drainage, transportation, environment and resettlement, etc.
Halcom Vietnam affirms its position in the field of consulting on sustainable urban and infrastructure development based on the business philosophy of "Profits should not be pursued by all means".
LEADING IN INFRASTRUCTURE DEVELOPMENT CONSULTANCY OF ODA PROJECTS
Since business establishment in 2001 in consultancy in water and environment projects, throughout 20 years of operation, Halcom Vietnam has consulted several large projects on urban renovation, upgrading and development, which includes water supply and drainage, transportation, environment and resettlement, etc.
Within a short time since establishment, Halcom rose to become a leading infrastructure consulting company, especially in sustainable development and was highly appreciated by international organizations such as the World Bank (WB), Asian Development Bank (ADB), Ministry of Foreign Affairs of Finland (MFA), etc.
Halcom is one of the few domestic enterprises that can lead an international bidding joint venture and win bids in ODA projects from more than ten years ago.
Until now, Halcom Vietnam has been affirming the leading position in sustainable infrastructure consultancy, including environmental and social policy and communication to raise public awareness. Halcom can provide almost all types of consulting services for the entire project cycle in accordance with the WB or ADB model from project formulation to feasibility study, detailed design, to contract management and construction supervision.
In particular, in addition to the technical field, Halcom can also provide sustainable development consulting services such as socio-economic survey, resettlement policy formulation, environmental impact assessment and communication to raise public awareness.
This is confirmed through more than 300 consulting contracts for urban and infrastructure development ODA projects funded by the World Bank, ADB and Finland, Japan, etc. in more than 50 provinces and cities in Vietnam such as Nam Dinh, Hai Phong, Ho Chi Minh City, Can Tho, Binh Dinh, Khanh Hoa, etc. Recently, Halcom has expanded its consulting market to other countries in the region with a project on sustainable management of rural and regional infrastructure and watershed area in Laos, which is funded by ADB.
"GREEN" INVESTMENT STRATEGY AND HEADING TOWARDS "HOLDING" MODEL
In 2009, Halcom Vietnam started to expand to infrastructure investment with Thuan Thanh Water plant in Bac Ninh. 2016 is the special mark in the development of the Company since Halcom officially went IPO on HOSE and started to invest in renewable energy sector.
Phuong Mai 3 Wind Power in Binh Dinh and Hau Giang solar power projects were invested systematically, constructed in accordance with committed milestones and came into operation in 2020. Up to now, total asset of Halcom Vietnam is 1,562B dong with the charter capital of 587.6B dong. It's developed into an ecosystem with 5 member companies and some ongoing projects.
In the mid and long-term development strategies, the Company will pursue investment in water supply and drainage, waste to energy and renewable energy. In 2021-2025, Board of Management expect to call for approx. 1.5B dong of capital to invest in strategic projects such as the offshore wind power in Quang Binh, Hau Giang 2 solar power, the clean water supply system in Nhon Hoi Economic Zone, Phuong Mai 3 resort in Binh Dinh, waste to energy projects in provinces (Long An, Da Nang, Ha Noi, etc.)
In fiscal year 2021, the Company aims to earn 21B of after-tax profit, 7 times more of that of 2020 and take cooperation activities from investors and domestic and international strategic partners.
With an open cooperation spirit and efforts to reach out to the international market, and persistently follow the direction of sustainable development, the Company has more and more reliable domestic and international partners for long-term cooperation for the benefit of parties. Regarding investment projects, the Company has been in cooperation with large foreign organizations and corporations and aiming to meet international quality standards, optimizing economic and financial efficiency, thereby we can improve professional project management and operation capacity
AIMING TO BE A TECHNOLOGY PIONEER, CREATING COMPETITIVE ADVATAGES
Trải qua nhiều thăng trầm, cơ hội và thách thức trong suốt chặng đường 20 năm hình thành và phát triển, doanh nhân Nguyễn Quang Huân đã chèo lái "con thuyền" Halcom Việt Nam đi tiên phong trong phát triển bền vững về hạ tầng – đô thị tại Việt Nam. Ông Huân là người luôn truyền cảm hứng và định hướng đội ngũ cán bộ nhân viên kiên định với kinh doanh liêm chính và sẵn sàng đón đầu công nghệ mới để tạo lợi thế cạnh tranh. Ông cũng là một "người đại biểu nhân dân" khi trúng cử đại biểu Quốc hội khóa XV.
Businessman Nguyen Quang Huan has steered the "boat" Halcom Vietnam to pioneer in sustainable development in infrastructure – urban areas in Vietnam. Mr. Huan always inspires and orients his employees to be consistent with business integrity and ready to embrace new technologies to create a competitive advantage through think-and-thin in 20 years. He is also a "people's deputy" after being elected as a member of the 15th National Assembly.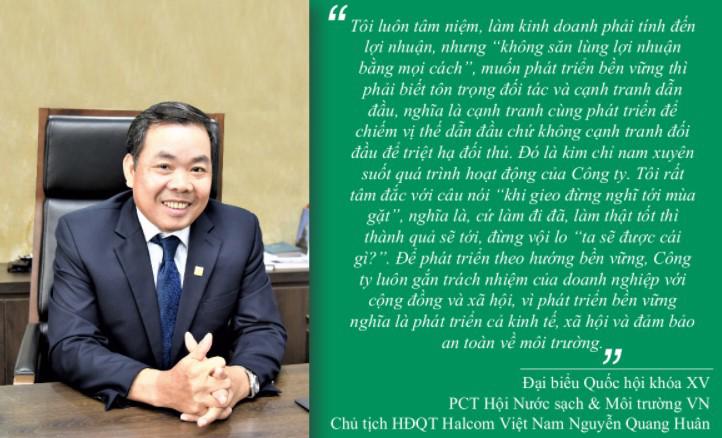 Halcom Vietnam is proud to be one of the first domestic companies to apply the Corporate Compliance Program (CCP) in operation management, which is built in accordance with the integrity standards of World Bank. Combined with a corporate culture based on the core values Solidarity – Discipline – Creativeness – Competitiveness and the business philosophy of "Profits should not be pursued by all means" from the early days of establishment, the CCP program is the foundation for Halcom to "Rising with the new Era".
Năm 2020 vừa qua, Halcom Việt Nam và Chủ tịch Hội đồng Quản trị Nguyễn Quang Huân đã vinh dự nhận giải thưởng Doanh nghiệp xuất sắc (Corporate Excellence) và Doanh nhân xuất sắc (Master Entrepreneur) châu Á thuộc hệ thống giải thưởng APEA (Asia Pacific Enterprise Awards) 2020 do Enterprise Asia tổ chức. Giải thưởng này đã khẳng định uy tín, vị thế của Công ty ở tầm vóc khu vực và quốc tế. Nhà máy Phong Điện Phương Mai 3 được bình chọn là Dự án Năng lượng tái tạo tiêu biểu Việt Nam năm 2020, do Báo Diễn đàn Doanh nghiệp và Hội đồng tư vấn Khoa học – Giáo dục – Môi trường (UBTƯ Mặt trận Tổ quốc Việt Nam) tổ chức.
In 2020, Halcom Vietnam and Chairman of the Board of Directors Nguyen Quang Huan were honored to receive the awards of Corporate Excellence and Master Entrepreneur in Asia under the Asia Pacific Enterprise Awards system 2020 by Enterprise Asia. This award has affirmed the prestige and position of the Company at regional and international stature. Phuong Mai 3 Wind Power Plant was voted as the typical renewable energy project in Vietnam in 2020, by the Business Forum Newspaper and the Science, Education and Environment Advisory Council (Central Committee of the Vietnam Fatherland Front).
Sau 20 năm phát triển, Halcom Việt Nam luôn nỗ lực vì sự phát triển chung của đất nước. Doanh nhân Nguyễn Quang Huân cùng đội ngũ cán bộ nhân viên Công ty vẫn đang đồng hành cùng các khách hàng, đối tác tin cậy trong và ngoài nước nỗ lực cùng nhau viết tiếp những câu chuyện thành công về phát triển xanh, nhanh và bền vững.
Throughout 20 years of development, Halcom Vietnam has always strived for the development of the country. Entrepreneur Nguyen Quang Huan and the company's employees are still accompanying customers and reliable partners in the country and abroad in order to continue writing success stories about green, fast and sustainable development together.
Source: VN Economy