The provincial Department of Industry and Trade has just received 10 tons of rice donated by Halcom Vietnam JSC. to support Hau Giang province in dealing with Covid-19 pandemic.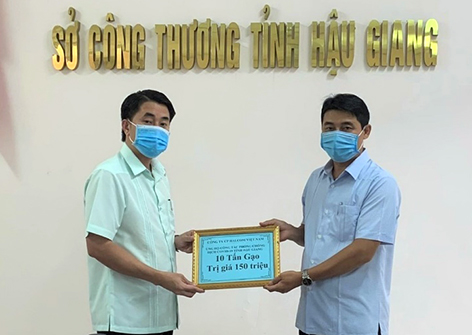 Director of Hau Giang Department of Industry and Trade Huynh Thanh Phong (left) received a signboard confirming the donation from Halcom Vietnam JSC.
Mr. Huynh Thanh Phong, Director of the Department of Industry and Trade, sincerely thanked and acknowledged the contributions from Halcom Vietnam JSC. to the economic development and social security of the province. The Department was committed to transferring the amount of food donated by the Company to the right subjects, for the right purposes and in a timely manner to the localities and mass organizations that are carrying out support activities for disadvantaged and affected people. affected by the Covid-19 epidemic in the province.
Halcom Vietnam JSC. is the investor of the first solar power plant in Hau Giang with a capacity of 35MWp in Hoa An commune, Phung Hiep district. The plant has been commercially operated since December 2020, contributing to effectively exploiting the potential of solar radiation and promoting the development of the renewable energy industry in Hau Giang.
Source: Hau Giang Online